Fish Em LLC is a veteran owned fishing guide company that started out as a passion and dream. For over 12 years, Travis and Lori have been fishing the Kenai River in Cooper Landing during the summer months and ice-fishing local lakes in Eagle River and Mat-Su Valley during the winter.
Kenai River Fishing: Depending on the time of year, we fish for Red Salmon, Silver Salmon, King Salmon, Pink Salmon, Rainbow Trout, and Dolly Varden. We fish the Upper Kenai River, Middle Kenai River, and Lower Kenai River depending time of year and target fish. We do fly-fishing, spin fishing, or a combination depending on your preference. We have partnered up with local halibut charters for combo halibut and salmon fishing trips depending on what you're looking for including lodging and fishing packages. Dry cabins available for lodging for clients.
Ice-Fishing: During the winter, we fish for Rainbow Trout, Arctic Char/Dolly Varden, Landlocked Salmon, and Pike. We love getting families out on the ice and getting kids on their 1st fish!
We have served clients of all ages and are a family friendly company. We have Military discounts available for summer fishing and have had the honor of guiding several military men and woman from Project Healing Waters, The Fallen Outdoors, Paralyzed Veterans of America (PVA), and other non profit organizations. We also have a Sponsor a Soldier program where all donations are used towards taking a soldiers out on the water. See our Sponsor a Soldier tab for details.  Our goal is to provide exceptional  service through our expertise, knowledge, and help create an adventure of a lifetime for our customers.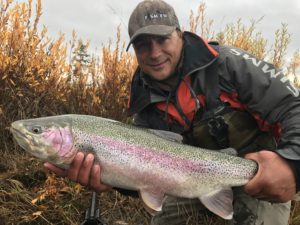 Travis Price, owner and guide of Fish Em LLC has over 12 years of experience fishing Alaska's Kenai and local rivers along with local lakes. Travis has been guiding with his six pack license over 6 years since he retired with the Army in 2013. Travis is passionate about teaching and sharing his love for fishing and the great Alaskan outdoors. He is an exceptional guide,  person, and friend that can not only put you on fish but show you a great time!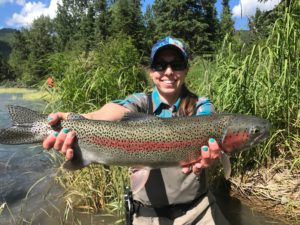 Lori Price, co-owner and general manager of Fish Em LLC has over 12 years of experience fishing in Alaska. Lori does the marketing, social media, booking trips, correspondence with clients, and more. Lori is an avid outdoors woman who loves to promote the great Alaskan outdoors with her biggest passion of fly-fishing.
We value our customers and welcome your feedback and suggestions. Use our Contact Us page to tell us what we're doing right or what we can improve on.